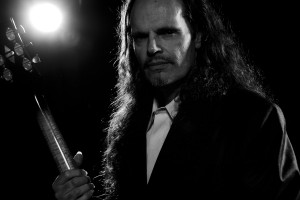 Originally from Montréal, guitarist André Roy has been a professional guitarist since the age of fifteen when he began touring with popular Québec artists.
 After studies at McGill University with Art Maiste, and with the support of a Canada Council Grant he also attended Berklee College of Music in Boston. André relocated to Toronto in 1986.
His Jazz performances have grown to consist mostly of his own compositions and the audience can usually expect a French component in his program, including some French jazz vocals or a jazz interpretation of an old folk melody.
André brings a personal voice and approach to his guitar playing with jazz roots coming from Wes Montgomery, Pat Martino, George Benson, pianist Bill Evans; blues roots from BB King; rock and musique concrète from Frank Zappa among others. Canadian/Montréal guitarists Nelson Symonds and Sonny Greenwich also feature strongly in André's musical upbringing.
By absorbing diverse influences and maintaining a habit of constant searching, experimentation and practice, André has unfolded a unique voice as a composer and guitarist. His style is distinctive and instantly recognizable. André is also a full-fledged vocalist and an accomplished fingerstyle player on a 7 string guitar – with an extra low string tuned to A.