World Jazz For Haiti
André was honoured to be asked to be a part of  The World Jazz For Haiti album. His track on this album entitled Mystical Northern Desolation/A La Claire Fontaine features the André Roy Trio, with vocals in French.
This album brought together an eclectic group of jazz musicians from across Canada and the world.  Jam packed with amazing performers such as Holly Cole, John McDermott, Jane Bunett, Jackie Richardson, The Shuffle Demons, Guido Basso, David Clayton Thomas and many more. All proceeds from this CD go to help rebuild Haiti from the devastation caused by the earthquake on January 12, 2010.
Click on the link to buy this album on iTunes and make a difference
DARKBRIGHT – The André Roy Trio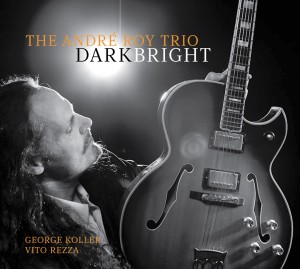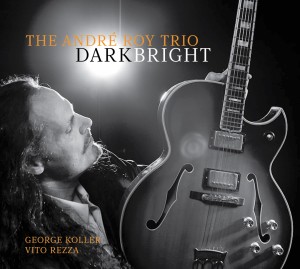 André's latest CD features his remarkable original compositions performed by The André Roy Trio with Canadian icons George Koller on bass and drummer Vito Rezza
His sound is unique. Take a listen to an amazing synergy of traditional jazz chops mixed together with electric rock like a marriage of Wes Montgomery and Frank Zappa
With assistance from the Ontario Arts Council André's one of a kind compositions have come to life on this groundbreaking CD
Buy it now on iTunes or CD Baby
Or request at your local CD store
Or request your signed copy to be delivered by mail

NOW AVAILABLE ON iTUNES
Also available through CD Baby.
Click the CD Baby Logo to buy the whole album – OR – make your track selections below and checkout will take you to the CD Baby site for download.